What's New
« Back
New Force Balance Accelerometers for Measure While Drilling (MWD) Applications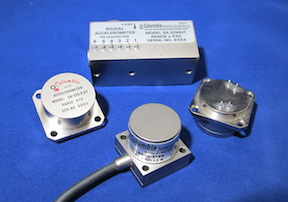 Columbia's robust force balance accelerometers meet the demanding environment of Measure While Drilling (MWD) applications. These sensors were designed specifically for use on drilling tools to provide accuracy in high temperature and vibration at a fraction of the price of competitive devices. These accelerometers utilize proven servo technology to provide the best performance possible with high reliability with exposure to intense vibration and temperatures up to 200°C.
We have a complete line of MWD accelerometers to meet the unique requirements of this demanding application. Columbia?s SA-120RHT/SA-125RHT series accelerometers are single axis sensor available in ranges from ±1g up to ±10g and operate at temperatures up to 200°C. The SA-120RHT is the accelerometer of choice for applications requiring operation up to 200°C. Our SA-120R/SA120RNP series accelerometers are designed for high shock and vibration survival while operating up to 125°C. The SA-120R/SA120RNP models are available with acceleration input ranges from ±1g to ±10g and are compact single axis accelerometers. Columbia also offers the SA-220RHT/SA225RHT series accelerometers for applications requiring a dual axis solution that operates up to 200°C.
Columbia's line of MWD accelerometers provides a more rugged solution than competitive sensors that are substantially higher priced. Our MWD sensors are compact and available with a square mount or a round flange. Columbia's offers drop in replacements for competitive accelerometers and provide the best performance to cost ratio available making it ideal for today?s oil market. Contact our experienced applications engineers today to help you select the best accelerometer to meet your requirements at a competitive price.