What's New
« Back
From General Purpose to High Performance Customized Accelerometers, Columbia Research has the Sensor for you...
Columbia Research Laboratories, offers a wide selection of Force Balance Servo Accelerometers specifically designed to give the user a diversified choice of sizes, configurations and performance levels for industrial, O.E.M. and military requirements. The servo force balance accelerometer offers significant performance and accuracy advantages. This fact is evident by their extensive use in applications requiring 0.1% or better overall accuracy. Unlike conventional accelerometers, the servo type contains a freely suspended mass constrained by an electrical equivalent mechanical spring.
CATALOG ITEMS
General Purpose
CRL's line of general purpose accelerometers starts with their model SA-107. The SA-107 family of sensors are ideal for DC and low frequency measurements. The accelerometers are self-contained and provide high level, low impedance output, and in most applications requires no signal conditioning.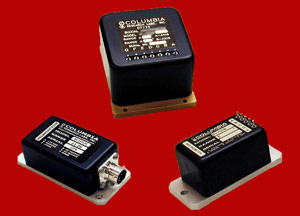 Features for the SA-107 Series
1, 2, and 3 Axis versions available
Operation Ranges

B Series = +/- 0.1G to +/- 100G
AI Series = +/- 0.25G to +/- 10G
2 & 3 axis Version = +/- 0.5G to +/- 50G

+/- 15 VDC Operation
+/- 7.5 V or 4-20mA Output
Operating Temperature Range -50 to +85°C
Choice of Terminal Pins or Connector
High Shock Survival Available
Low Noise
CRL has also designed a line of Low Noise Accelerometers for use in seismic and low level, low frequency motion studies. They are easily installed in buildings, bridges and other civil engineering structures. These sensors utilize low noise electronics in conjunction with the force balance principle to make possible measurements in the low frequency micro-G range. The future of this Low Noise sensor is a wireless system that will provide customers an opportunity to customize their seismic monitoring.
Features for LN Series
1, 2, and 3 Axis versions available
Operation Ranges from +/- 0.1G to +/-2G
+/-12 to +/-15VDC Operation
+/- 7.5 V Output
Operating Temperature Range -40 to +85°C
Choice of Terminal Pins or Connector
High Temperature
CRL's Miniature MWD Sensors have been designed for use in downhole well service applications. The model SA-120 RHT has been widely used since the 1980's in this field. In addition to their small size these sensors are cable of operating at temperatures up to 200°C in extreme shock and vibration environments. These features along with their proven performance have made these accelerometers the standard for use in downhole high temperature mapping.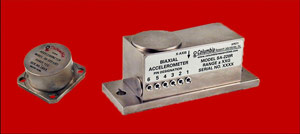 Features for High Temperature Sensors
Available in 1 and 2 axis configurations
Operation Ranges from +/-1G to +/-10G
+/-15VDC or +/- 5VDC available
Output Voltage +/-5 Volts or +/-3 Volts
Operating Temperature up to 200°C
In addition to Columbia's catalog items they provide customers with customized sensors that meet the highest quality standards. Many Columbia Force Balance Transducers have been in-flight missile qualified in accordance with all applicable MIL-Standards / Commercial standards and are currently being used on a variety of our government's most technically demanding military in-flight weapons systems. COLUMBIA also offers servo accelerometers that have been TSO-Approved by the Federal Aviation Agency (FAA) for flight avionics, commercial and general aircraft flight control systems. For over thirty-five years, high reliability product performance for such critical applications have been a significant feature of COLUMBIA Force Balance Servo Accelerometers.
THE COLUMBIA FACILITY
Self-sufficiency has been a Columbia key-note over the fifty years of the company's existence. Dependency on outside sources for critical components, materials and services is discouraged. All the torque mechanisms used in the miniature and high performance inertial products are totally manufactured at CRL. This is done to insure consistent availability and precision of critical components.
Torque parts, housing and hardware for Columbia Force Balance Accelerometers are manufactured in their on-site shop facilities using efficient, high-speed, numerically-controlled machines. No cast parts are used in the Columbia torquers. All parts are precision machined and checked to exacting standards. Critical assembly operations are performed in a "Limited Access White Room".
CRL also has extensive "in-house" environmental testing capabilities in sine and random vibration, shock, angular and linear acceleration, and temperature. The facility and all procedures and processes have been quality surveyed and are certified to be in full compliance with Federal Government Quality Assurance Documents MIL-Q-9858 / MIL-I-45208.
Columbia Research Labs is an ISO 9001:2008 with Design & AS 9100 certified company. The small woman owned business is located just outside the city of Philadelphia PA, USA. Contact can be made through their newly constructed web site www.crlsensors.com, or through Tel: 610.872.3900 or Email: sales@crlsensors.com.
COLUMBIA will continue to expand their facilities and capabilities in order to guarantee the ability to respond rapidly and economically to customers' needs for specialized packaging or performance in the field of force balance accelerometers and to insure the highest level of product accuracy and performance available from any source.