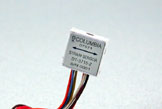 DT3715 1
Strain & Temperature Outputs
Choice of Cylindrical Mounting Radius
Self Temperature Compensating
Ease of Installation
Download Spec Sheet
Columbia Series DT3715 sensors were designed to accurately measure both strain and temperature on curved mounting surfaces. These sensors offer all the accuracy, ruggedness and ease of installation of the flight-qualified Series DTD2684 sensors and also incorporate a DIN standard 1000 ohm platinum RTD which provides accurate temperature measurements at the exact point of sensor mounting. Similar devices have been utilized to monitor rocket body expansion. They can also be used in many industrial and military applications involving pipe expansion measurements, explosive body applications, aircraft surface load, and engine monitoring of all types.
Series DT3715 sensors are customized to measure circumferential strain around the diameter of the surface to which it is mounted. The specified mounting radius is custom molded into the body of the sensor providing a method of controlling operator alignment during sensor mounting. Models are available to compensate materials commonly used in aircraft structural fabrication as well as other materials as specified. Columbia Model 5802 Strain Gage Amplifier is also available to power and signal condition both the strain and temperature outputs of the sensors.
Notes:
Exports from the United States are subject to the licensing requirements of the Export Administration Regulations (EAR) and/or the International Traffic in Arms Regulations (ITAR).
Specifications
| | |
| --- | --- |
| Linearity | ±0.5% Max. |
| Operating Range | -3500 to +5000 |
| Rated Excitation | 10.0 VDC |
| Zero Offset | ±0.5 mV/V Typical |
| Sensitivity Shift | ±0.005% / °F |
| DC Input Resistance | 1000 ohms, ±2% |
| Sensitivity Shift | 1000 ohms, ±2% |