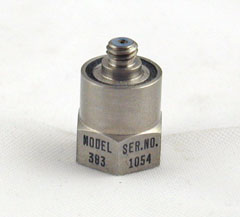 383
High Shock To 20,000 G
Sensitivity 0.5 pC/g
High Resonant Frequency
Low Base Strain Sensitivity
Electrically Isolated
Download Spec Sheet
The Model 383 Piezoelectric Accelerometer is specially designed to accurately measure high amplitude shock and vibration phenomena. The high resonant frequency of 80KHz results in minimum output distortion due to ringing when measuring impact transients with durations as low as 50 microseconds.
The Model 383 incorporates an advanced seismic system in which the sensing crystal is almost totally constrained and free from zero shift following high energy impacts. This accelerometer is not affected by transverse components of impact and is capable of measurements up to its rated value of 20,000 g's and even to 50,000 g's with stable operation. Its rugged construction ensures long life and high performance stability and repeatability. Internal electrical isolation minimizes ground loop problems from noise currents.
Consult the factory for customized versions of these sensors.
Notes:
At +75 Deg F, 10g Peak, 100Hz; Lower Frequency Limit is Determined by Associated Electronics
Referenced to Sensitivity @ 100 Hz.
Unit is Epoxy Sealed
Specifications
| | |
| --- | --- |
| Charge Sensitivity | 0.5 pC/g Nominal 0.95 pC/g Maximum |
| Frequency Linearity | +/-5% Max 2 Hz To 15,000 Hz |
| Resonant Frequency | 80 KHz, Min. |
| Amplitude Linearity | +/-1.0% (BFSL) |
| Capacitance | 325 +/-100 pF |
| Insulation Resistance | 10,000 M Ohm Min, 50 VDC Test |
| Isolation Resistance | 100M Ohm, Min. |
| Transverse Sensitivity | 5% Max |