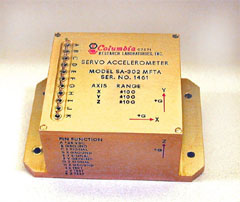 SA 302MFTA
Miniature Airborne Sensors
+28 VDC Operation
High Reliability
1 & 3 Axis Configurations
Download Spec Sheet
The Columbia Models SA-102MFTB and SA-302MFTA are precision miniature force balance accelerometers designed to operate from +24 to +32 VDC aircraft power. The high level output signal and inherent self-regulation qualities of the servo loop design make these accelerometers excellent candidates for airborne telemetry applications. The output signal format is compatible with most airborne VCO?s and signal processing systems.
Both configurations incorporate the Columbia HP torquer system, which provides exceptional performance and reliability in the severe vibration and shock environments associated with aircraft and missile flights. The Model SA- 302MFTA is a compact triaxial version of the single axis Model SA-102MFTB.
Consult the factory for customized versions of these sensors.
Notes:
Exports of accelerometers from the United States are subject to the licensing requirements of the Export Administration Regulations (EAR) and/or the International Traffic in Arms Regulations (ITAR).
Specifications
| | |
| --- | --- |
| Output Impedance | <5000 Ohms |
| Ranges Available | +1 G To +50 G |
| Output Voltage | 0.2 To 4.8 VDC into 100K Load |
| Excitation | +24 To +32 VDC, <30 mA |
| Sensitive Axis Alignment | Better Than 0.5 Deg |
| Scale Factor Tolerance | +1% |
| Scale Factor Temp Coefficient | +0.02% / Deg C Max. |
| Zero Bias | 2.5 +0.025 VDC |
| Null Temp Sensitivity | 0.005% F.R./Deg C |
| Natural Frequency | 50 To 350 Hz Dependent Upon |