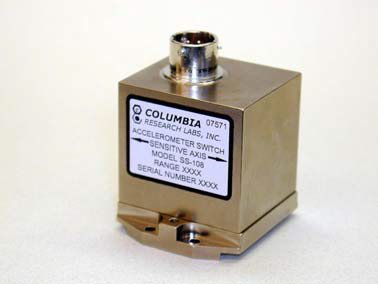 SS 108
Selectable Switch Point
Single or Bi-Polar Switch
Choice of Input Power
Download Spec Sheet
The Columbia Model SS-108 Accelerometer Switch is designed to interface with electrical or mechanical systems to control, safeguard or warn of undesirable variations in DC and low frequency acceleration. This model uses Columbia's patented HP suspension system, which assures high accuracy and ruggedness. No signal conditioning is required to the analog output in most applications.
The accelerometer switch contacts can be configured to trigger in one or both directions along the sensitive axis, at a specified G level within a selected operating range. The solid-state relay switching capacity is 500mA at 60VDC and is available with normally open or normally closed contacts. Consult the factory for customized versions of this sensor.
Notes:
Exports of accelerometers from the United States are subject to the licensing requirements of the Export Administration Regulations (EAR) and/or the International Traffic in Arms Regulations (ITAR).
Specifications
| | |
| --- | --- |
| Range Available | +2 G To +30 G |
| Zero Bias | +5.000 +0.020 VDC |
| G Level Switch Point | Within Selected Operating Range Single G Level ?or- Bi-Polar Point |
| Switch Point Tolerance | +10% Including Hysteresis |
| Switch Contacts | Single Pole / Single Throw Normally Open -or- Normally Closed, As Specified |
| Switch Contact Ratings | 0 To 60 VDC, 0.5 Amp, 0.15 Ohm ON Resistance Typical, 100 Ohm OFF Resistance, Bounce Free Operation |
| Signal Output Voltage | 0.200 To 9.800 VDC into 100K Load |
| Bias Temp Coefficient | 0.005% F.R./ Deg C |
| Input Power: | +24 To +32 VDC @ 50 mA Max. -or- +12 To +18 VDC @ 50 mA Max. |