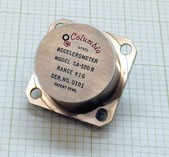 SA 520RNP
Miniature Aircreft Sensors
High Temperature to 175 C
Extreme Shock and Vibration Survival
Download Spec Sheet
Columbia Model SA-520RNP Force Balance Accelerometer is an extremely rugged, high performance accelerometer available with choice of operating ranges from +/-1G through +/-50G. It is completely self-contained and requires no additional signal conditioning.
The sensor incorporates Columbia's patented HP torquer system and provides exceptional performance and reliability in severe vibration and shock environments. Its small size and superior accuracy and repeatability make it the preferred sensor for applications where space is limited. Model SA-520RNP is designed to operate in temperatures up to +125 degrees C. Refer to Columbia Models SA-132RHT and SA-528RHT for extreme high temperature applications. Consult the factory for customized versions of this sensor.
Notes:
Exports of accelerometers from the United States are subject to the licensing requirements of the Export Administration Regulations (EAR) and/or the International Traffic in Arms Regulations (ITAR).
Specifications
| | |
| --- | --- |
| Output Impedance | <5000 Ohms |
| Ranges Available | +1 G To +50 G |
| Output Voltage | +5 Volts into 100K Load |
| Excitation | +15 VDC <20 mA |
| Sensitive Axis Alignment | Better Than 0.25 Deg |
| Scale Factor Tolerance | +1% |
| Scale Factor Temp Coefficient | 0.025% / Deg C Max. |
| Zero Bias | +0.05% F.R. |
| Null Temp Sensitivity | 0.001% F.R./Deg C |