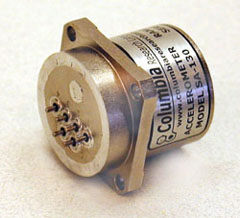 SA 130
Premium Performance
+/-15 VDC Operation
Compact, Rugged Design
Hermetically Sealed
Download Spec Sheet
The Columbia Model SA-130 is a precision force balance accelerometer developed for the severe shock and vibration environments associated with aircraft and missile flights. This sensor incorporates hi-rel electronic components ensuring long-term stability and superior reliability over a wide temperature range.
The Model SA-130 is light weight and hermetically sealed. Additionally, this unit features a self-test capability requiring an input current range of 0.2 to 3.0 mA/Gdepending on selected operating range. Consult the factory for customized versions of this sensor.
Notes:
Exports of accelerometers from the United States are subject to the licensing requirements of the Export Administration Regulations (EAR) and/or the International Traffic in Arms Regulations (ITAR).
Specifications
| | |
| --- | --- |
| Output Impedance | <2000 Ohms |
| Ranges Available | +1 G To +50 G |
| Output Voltage | +5 VDC into 100K Load |
| Excitation | +15 VDC <20 mA |
| Sensitive Axis Alignment | Better Than 0.25 Deg |
| Scale Factor Tolerance | +0.5% |
| Scale Factor Temp Coefficient | 0.018% / Deg C Max. |
| Zero Bias | +5 mV or +6 mG (Lower Value Applies) |
| Null Temp Sensitivity | 0.00015% F.R./ Deg C |