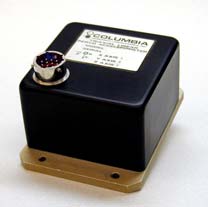 SA 207LN
Seismic Event Sensors
Ultra Low Noise
High Level Output
2 or 3 Axes
Download Spec Sheet
Columbia Models SA-207LN and SA-307LN Servo Accelerometers are highsensitivity, low noise sensors designed for use in seismic and low level, low frequency motion studies. The accelerometers are self-contained and provide high level, low impedance output. No signal conditioning is required in most applications.
Like the single-axis SA-107LN, these multi-axis sensors allow measurements in the low frequency micro-G range. Aside from the traditional DC-coupled zero output, the SA-207LN and SA-307LN Accelerometers provide AC-coupled zero output which eliminates tilt-induced or offset errors facilitating high amplification of the basic output. Consult the factory for customized versions of this sensor.
Notes:
Exports of accelerometers from the United States are subject to the licensing requirements of the Export Administration Regulations (EAR) and/or the International Traffic in Arms Regulations (ITAR).
Specifications
| | |
| --- | --- |
| Output Impedance | <1000 Ohms |
| Ranges Available | +0.1 G To +2 G |
| Output Voltage | +7.5 Volts into 100K Load |
| Excitation | +12 to +15 VDC <20 mA |
| Sensitive Axis Alignment | Better Than 0.25 Deg |
| Scale Factor Tolerance | +1% |
| Scale Factor Temp Coefficient | +0.01% / Deg C Max. |
| Zero Bias | Output, A.C. Coupled, D.C. Coupled <5 mV <1 mG |
| Null Temp Sensitivity | 75 V./Deg C |
| Natural Frequency | 100 To 200 Hz, Dependent Upon Range |