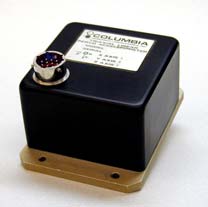 SA 307TX
Triaxial Sensors
+/-15 VDC Operation
Low Cost and High Performance
Download Spec Sheet
The Columbia Models SA-307TX and SA-307HPTX are force balance accelerometers capable of measuring DC and low frequency acceleration simultaneously in three axes. These sensors are self-contained and provide a high level, low impedance output. No additional signal conditioning is required in most applications.
The Model SA-307TX is a low cost design and is well suited for many OEM and general-purpose industrial applications. The Model SA-307HPTX incorporates Columbia's patented "HP" torquer design providing improved accuracy and repeatability in adverse shock and vibration environments. Consult the factory for customized versions of these sensors.
Notes:
Exports of accelerometers from the United States are subject to the licensing requirements of the Export Administration Regulations (EAR) and/or the International Traffic in Arms Regulations (ITAR).
Specifications
| | |
| --- | --- |
| Output Impedance | <5000 Ohms |
| Ranges Available | +1 G To +50 G |
| Output Voltage | +7.5 Volts into 100K Load |
| Excitation | +15 VDC <30 mA |
| Sensitive Axis Alignment | Better Than 0.5 Deg |
| Scale Factor Tolerance | +1% |
| Scale Factor Temp Coefficient | +0.02% / Deg C Max. |
| Zero Bias | +0.1% F.R. |
| Null Temp Sensitivity | 0.0005% F.R./ Deg C |