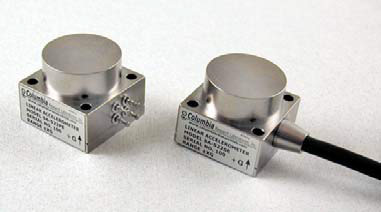 SA 522PE
Miniature Sensors
+5 To +12 VDC Power
High Shock and Vibration Survival
Download Spec Sheet
Columbia Models SA-522PE and SA-522SE miniature force balance accelerometers are lightweight sensors designed to operate from a wide range of acceptable power variations with low current draw. These devices are ideal for battery-powered applications.
The sensors are designed with an output configuration comparable to strain gage accelerometers, but the superior force balance technology of Models SA-522PE/SE provides a higher level output as well as superior performance, ruggedness, and reliability when compared to strain gage technologies. Models SA-522PE and SA-522SE Accelerometers are identical except for their respective electrical interface. Consult the factory for customized versions of these sensors.
Notes:
Exports of accelerometers from the United States are subject to the licensing requirements of the Export Administration Regulations (EAR) and/or the International Traffic in Arms Regulations (ITAR).
Specifications
| | |
| --- | --- |
| Output Impedance | 350 Ohms Max. |
| Ranges Available | +1 G To +50 G |
| Output Voltage | +1 VDC @ +5 Volt Excitation; Increases to +3 VDC @ +12 Volt Excitation (Usable range expands by 3X @ +12 Volt Excitation) |
| Excitation | +5 VDC To +12 VDC Less Than 15 mA @ +5 VDC Less Than 30 mA @ +12 VDC (Comparable to 350 Ohm Gage) |
| Sensitive Axis Alignment | Less than 0.5 Deg. |
| Scale Factor Tolerance | +2% (Unit to Unit) |
| Scale Factor Temp Coefficient | 0.02% / Deg C Max. |
| Zero Bias | +0.5% F.R. |
| Null Temp Sensitivity | +0.005% F.R./ Deg C |