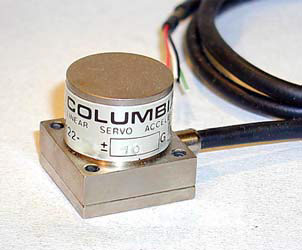 SA 122R
Miniature Sensor
+28 VDC Power
High Shock and Vibration Survival
Download Spec Sheet
The Columbia Model SA-122R miniature force balance accelerometer is a lightweight sensor designed to survive severe mechanical environments without degradation to unit performance. Originally conceived as a replacement for a popular strain gage design frequently used by major aircraft manufacturers, this device has found widespread acceptance by major airframe producers.
The SA-122R eliminates the need for supplementary signal conditioners by providing a standard 0 to 5 volt low impedance output while operating from +28VDC aircraft power. The force balance design delivers accuracy and stability far superior to that which can be expected from a comparably priced strain gage system. Consult the factory for customized versions of these sensors.
Notes:
Exports of accelerometers from the United States are subject to the licensing requirements of the Export Administration Regulations (EAR) and/or the International Traffic in Arms Regulations (ITAR).
Specifications
| | |
| --- | --- |
| Output Impedance | <1000 Ohms |
| Ranges Available | +0.5 G To +50 G |
| Output Voltage | 0.2 To 4.8 VDC into 100K Load |
| Excitation | +24 To +32 VDC 25 mA Nominal |
| Sensitive Axis Alignment | 1 Deg Max. |
| Scale Factor Tolerance | +1% for a given range |
| Scale Factor Temp Coefficient | 0.02% / Deg C Max. |
| Zero Bias | 2.5 +0.020 VDC |
| Null Temp Sensitivity | +0.25 mV / Deg C |