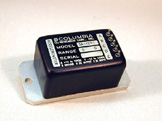 SA 107BC
Single Axis
+/- VDC Operation
Low Cost and High Performance
Download Spec Sheet
The Columbia Models SA-107B and SA-107BHP Servo Accelerometers offer the superior performance of force balance technology and are configured for general purpose and high performance applications respectively. These sensors are ideal for DC and low frequency measurements. The accelerometers are self-contained and provide high level, low impedance output. No signal conditioning is required in most applications.
The SA-107B Series is well suited for many OEM and industrial applications. These devices are available with either terminal pins or a 4-pin connector for convenient installation. Consult the factory for customized versions of these sensors.
Notes:
Exports of accelerometers from the United States are subject to the licensing requirements of the Export Administration Regulations (EAR) and/or the International Traffic in Arms Regulations (ITAR).
Specifications
| | |
| --- | --- |
| Output Impedance | <100 Ohms |
| Ranges Available | +0.25 G To +100 G +0.1 G To +100 G |
| Output Voltage | +7.5 Volts Into 10K Load |
| Excitation | +15 +1 VDC 10 mA Max. |
| Sensitive Axis Alignment | +0.5° Max. +0.25° Max. |
| Scale Factor Tolerance | +1% of Nominal |
| Scale Factor Temp Coefficient | +0.02% / Deg C |
| Zero Bias | +0.05% F.R. or 3 x 10-4 (Larger Value Applies) |
| Null Temp Sensitivity | 0.0005% / Deg C |