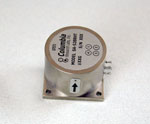 SA 528RHT
Biaxial Sensors
+/-15 VDC Operation
Low Cost and High Performance
Download Spec Sheet
The Columbia Model SA-528RHT Force Balance Accelerometer is designed for extreme high temperature environments including aircraft engines. The Model SA-528RHT is capable of operating at temperatures of up to 175 degrees Celsius. This sensor is completely self-contained and provides a high level, low impedance output eliminating the need for high temperature signal conditioning.
In addition to small size and exceptional high temperature performance, Model SA-528RHT incorporates our patented high performance torquer system, which provides exceptional performance and reliability in severe vibration and shock environments. An optional integrated high temperature.
Consult the factory for customized versions of these sensors.
Notes:
Exports of accelerometers from the United States are subject to the licensing requirements of the Export Administration Regulations (EAR) and/or the International Traffic in Arms Regulations (ITAR).
Specifications
| | |
| --- | --- |
| Output Impedance | <1000 Ohms |
| Ranges Available | +1 G To +50 G |
| Output Voltage | 0.2 To 4.8 +2% VDC into 100K Load |
| Excitation | +28 +4 VDC, +30mA Max. |
| Sensitive Axis Alignment | <1 Degree |
| Scale Factor Tolerance | +1.5% |
| Scale Factor Temp Coefficient | Less Than 0.03% / Deg C Max. |
| Zero Bias | 2.500 +0.030 VDC |
| Null Temp Sensitivity | Less Than 0.005% F.R. / Deg C |