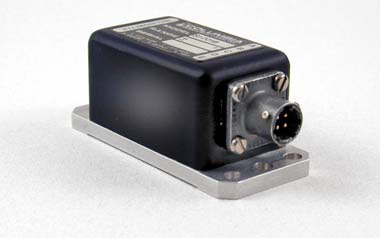 SA 107AIHPC
Single Axis
+15 VDC Operation
Low Cost and High Performance
Download Spec Sheet
Columbia Models SA-107AIC and SA-107AIHPC Force Balance Accelerometers are designed with an output circuit configuration made for use in 4-20mA data transmission systems. The 4-20 mA system is used extensively in industrial installations in order to transmit data over long distances in environments where interference from nearby electrical power lines could be a problem. A single +15 volt supply powers both the sensor and 4-20 mA line driver.
Model SA-107AIC is a low cost device, while the SA-107AIHPC incorporates Columbia's patented HP torquer design providing improved accuracy and repeatability in adverse shock environments. Both configurations provide a convenient 6-pin electrical interface. Models SA-107BIC and SA-107BIHPC Accelerometers are similar configurations that provide voltage output in addition to current output. Consult the factory for customized versions of these sensors.
Notes:
Exports of accelerometers from the United States are subject to the licensing requirements of the Export Administration Regulations (EAR) and/or the International Traffic in Arms Regulations (ITAR).
Specifications
| | |
| --- | --- |
| Output Impedance | 50 Megohm Typical |
| Ranges Available | +0.25 G To +10 G |
| Output Voltage | 4-20 mA Corresponding to F.S. Range into a Maximum Load of 600 Ohms |
| Excitation | +15 +1 VDC <50 mA Max. |
| Sensitive Axis Alignment | <0.5 Deg. |
| Scale Factor Tolerance | +1% |
| Scale Factor Temp Coefficient | 0.02% / Deg C |
| Zero Bias | 12 +0.05 mA |
| Null Temp Sensitivity | +0.0001% F.R. / Deg C |