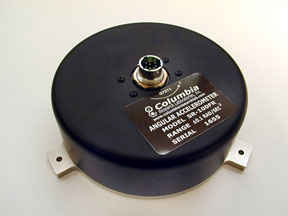 SR 207RFR
High Sensitivity
High Performance Fluid
Rotor Design
Download Spec Sheet
The Columbia Models SR-100FR and SR-200RFR Angular Accelerometers are designed for low level near DC applications. These sensors incorporate the fluid rotor concept to provide extremely high sensitivity and full scale ranges as low as +/-0.01 radians/second 2. The high performance torquer design maintains ruggedness and reliability in severe shock and vibration environments.
The Model SR-100FR operates from a +/-15 volt power source and has an output span of +/-5 volts for full scale input. The Model SR-200RFR features the same sensor system as the SR-100FR but provides electronics that operate from a +24 to +32 volt aircraft supply and delivers 0 to 5 volt output. Both units are completely self-contained and require no additional amplification or conditioning.
Applications for these high sensitivity accelerometers include rotational studies or stabilization of structures, platforms, antennas and ships. Consult the factory for customized versions of these sensors.
Specifications
| | |
| --- | --- |
| Output Impedance | <5000 Ohms |
| Ranges Available | +10 To +500 Rad/Sec2 |
| Output Voltage | 0.2 To 4.8 VDC into 100K Load |
| Sensitive Axis Alignment | 0.5 Deg |
| Scale Factor Tolerance | +1% |
| Scale Factor Temp Coefficient | 0.05% / Deg C Max |
| Zero Bias | 2.5 +0.01 VDC |
| Null Temp Sensitivity | +0.4 mV / Deg C |