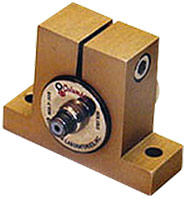 P 308 C
High Intensity Acoustic Microphone
Operational Range 100 to 190 dB
Vibration Compensated
Download Spec Sheet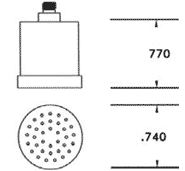 The Columbia Model P-308-C Piezoelectric Microphone is designed to measure a wide range of varying high intensity sound pressure levels from 110 dB to 190 dB. Incorporating a unique "opposing" seismic system design, the unit is effectively insensitive to external vibration environments. This microphone offers unusually high charge sensitivity, wide frequency response and excellent linearity.
The Model P-308-C features a compact design weighing less than 20 grams. The advanced stainless steel case design assures exceptional mechanical isolation and rugged construction for use under the most severe environmental conditions. Consult the factory for customized versions of this sensor.
Notes:
With Connector Mated or Protected.
Specifications
| | |
| --- | --- |
| Charge Sensitivity | 4 pC rms Min. |
| Pressure Range | 100 To 190 dB |
| Pressure Overload | 30 psi |
| Frequency Linearity | +/-2 dB, 5 To 6,000 Hz +/-3 dB. 6,000 To 10,000 Hz |
| Resonant Frequency | 27 KHz Min. |
| Amplitude Linearity | +/-0.5 dB of Full Scale SPL over Dynamic Range |
| Capacitance | 3600 pF (Nominal) |
| Grounding | Isolated |