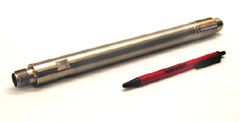 954 M5
High Pressure Gage
Low Output Impedance
Choice of Sensitivities
Wide Frequency Response
High Temperature To +535 Deg. F
Download Spec Sheet
The Models 954M2 and 954M5 Integrated Dynamic Pressure Gages are designed for the measurement of dynamic pressure events, such as explosive blasts and high level pressure pulses in the frequency range of 1 Hz to 15KHz. The pressure sensing area will sustain continuous operating temperatures up to +535 degrees F. Sufficient cooling must be provided such that the connector area will not exceed +280 Deg F.
The unit is machined from 300 Series stainless steel, utilizes a stainless steel hermetic connector, and is of all-welded construction. The integral electronic buffer provides a low impedance output when used with constant current sources of 2 to 20mADC. Consult the factory for customized versions of this sensor.
Notes:
Unit must be powered with 2 to 10 mA DC Current Source having a compliance voltage of 18 to 30 VDC. Unit is Hermetically Sealed.
Specifications
| | |
| --- | --- |
| Charge Sensitivity | 5.0 mV/psi +/-10% |
| Frequency Linearity | +/-1 dB, 1 Hz To 15,000 Hz |
| Full Range Output | +/-5V Pk into 10 Kilohms Min. |
| Output Impedance | 50 Ohms Nominal |
| Linearity | 2% / 1,000 psi (B.F.S.L.) |
| Output Bias Voltage | 10.25 +/-1 VDC |
| Avg Temp Coeff of Sensitivity | 0.03% / Deg F (Nominal) |
| Power Requirement | 4.0 mA DC Nominal, 18 To 30 VDC |
| Isolation Resistance | 50 Megohms Min. |